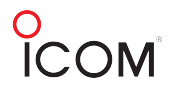 Icom's AIR. LAND. SEA – Everything Under One Company
Professionals, first responders, public safety agencies and more choose Icom's AIR LAND and SEA communication solutions. Over 50 years of engineering and high-quality production are part of every Icom Product. Icom equipment provides the critical infrastructure needed for successful two-way communication. Be that with advanced emergency functionality, rugged MIL-STD construction or the necessary radio system features to manage all communication situations. Icom designs, builds and implements communication equipment of any size and capacity.
AIR
Pilots and ground crew around the world trust Icom for their avionic communication solutions. Military-tough, versatile and user-friendly, Icom has dominated the avionics radio market and continues to do so with its handheld and panel mount air band radios.
LAND
Icom is deeply committed to P25, the North American digital standard for public safety communications interoperability. Icom is also devoted to IDAS™ systems, bridging the gap between analog and digital equipment.
SEA
From the causal boater to seasoned mariner, a VHF marine radio is an essential component when on the water, and with Icom's marine solutions, ship-to-shore communication has never been smoother.